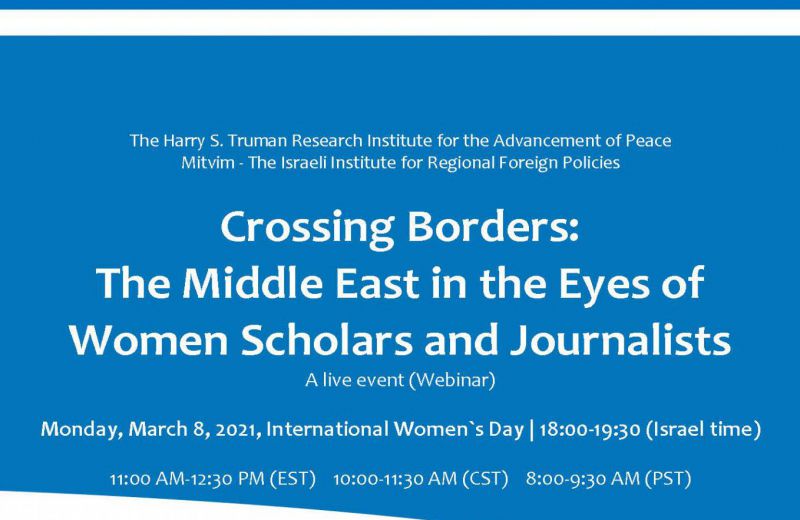 A live event (Webinar)
Monday, March 8, 2021, International Women`s Day | 18:00-19:30 (Israel time)
11:00 AM-12:30 PM (EST) 10:00-11:30 AM (CST) 8:00-9:30 AM (PST)
What impact does gender have on media coverage and political discourse?
Opening Remarks (English)
Prof. Vered Vinitzky-Seroussi, Head, The Truman Institute
Dr. Nimrod Goren, Head, The Mitvim Institute
International Perspective (English)
Christiane Amanpour, CNN Chief International Anchor, Host of Amanpour, Amnapour & co, PBS
Interviewed by Tali Lipkin-Shahak, Journalist
Local Perspectives (Hebrew)
Ksenia Svetlova, Former Member of Knesset, The Mitvim Institute and The Institute for Policy and Strategy
Smadar Peri, Middle East Commentator, Yedioth Ahronoth
Dr. Salwa Alinat, The Truman Institute and The Open University
Einat Levi, Researcher and Entrepreneur, The Mitvim Institute
Chair: Jacky Hugi, Journalist, Galei Tzahal
Please register here: http://bit.ly/ME_Women_Event
The Zoom link will be sent to everyone who registered on the day of the event.
It will be held on ZOOM and broadcast on the Truman Institute's Facebook page
Participants are welcome to submit questions during the event.
Facebook event for more details: http://bit.ly/MEWomenEvent