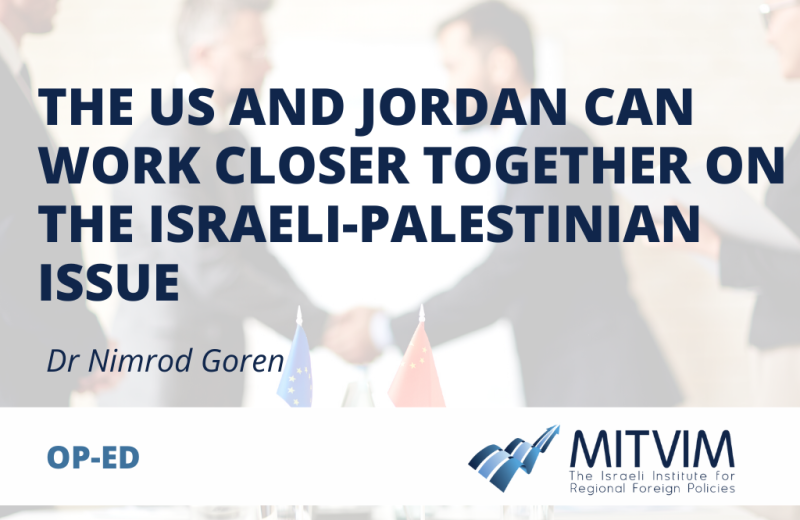 Op-eds / The Israeli-Palestinian Peace Process
King Abdullah II bin Al-Hussein's White House visit on Feb. 2 reflected that Jordan is a like-minded partner for the United States when it comes to preventing an escalation of the Israeli-Palestinian conflict and advancing a two-state solution.
The visit took place amidst a rise in violent incidents between Israelis and Palestinians. Both Washington and Amman have voiced concerns about Israeli Prime Minister Benjamin Netanyahu's new government, each for its own reasons. There are several concrete next steps that the two countries can now take to follow up on the visit and promote stability, peacemaking, and regional cooperation.
The U.S. and Jordan should prepare for the sensitive overlap between Ramadan and Passover this coming April by coordinating their efforts, dividing the labor, and utilizing their leverage over Israel and the Palestinian Authority, respectively, to lower the risk of escalation.
They should also work to bring together international actors willing to invest political capital in dealing with the Israeli-Palestinian issue. The Middle East Quartet, composed of the U.S., Russia, the European Union and the United Nations, has not been effective for years, and a new multilateral mechanism is needed, even if informally at first.
Jordan can bring on board France, Germany and Egypt — its partners in the Munich Group (which has convened periodically since 2020 to maintain the prospects for a two-state solution). Whereas, the U.S. can invite its Quartet allies — the EU and the U.N. Switzerland and Norway, whose special envoys to the region recently visited Jerusalem, can also be incorporated, alongside Turkey — given its recent rapprochement with Israel and good relations with the Palestinians.
At the regional level, the U.S. should respect Jordan's decision to stay out of the Negev Forum until there is progress on the Israeli-Palestinian track. In the meantime, it should make sure that the interests of Jordan and the Palestinians are considered during the upcoming Negev Summit, planned for March in Morocco. Additionally, Washington should link Jordan and the Palestinians as much as possible to regional projects enabled by the Abraham Accords.
The U.S. can also encourage Jordan and Saudi Arabia to work together on updating the Arab Peace Initiative, bringing it in line with recent regional developments and making it a more effective incentive for peace. Amman played a key role in the drafting of the initiative over 20 years ago, and it may want to do so again. The Saudis emphasize their commitment to the initiative and notably convened a multilateral gathering toward updating it on the sidelines of the 2022 U.N. General Assembly.
Finally, the U.S. can assist Israel and Jordan to put in place a crisis-management mechanism that will enable the two neighbors to deal effectively with the consequences of any Israeli-Palestinian escalation and prevent the collapse of their bilateral ties.
The article was published in MEI@75 on February 6.