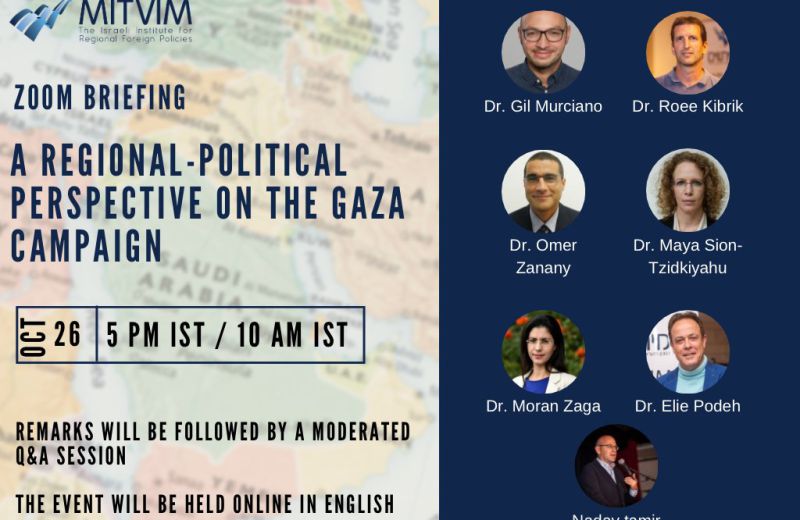 The Gaza campaign is not a local conflict. Although the fighting is confined to a specific geographic area, it risks spreading and turning into a regional campaign that involves the United States and its regional allies in shaping the war and its aftermath. Understanding the attitudes, interests, sensitivities and capabilities of each country in the region regarding the campaign is thus of great importance.
On October 26th Mitvim hosted a virtual briefing to discuss the regional-political perspective on the Gaza campaign. The briefing was based on a collection of analyses by Mitvim experts, offering an initial regional view of the Gaza campaign.
Watch the briefing Here.
Link to the compilation by Mitvim experts: https://mitvim.org.il/en/9915/ 
The briefing featured:
Dr. Gil Murciano- CEO, Mitvim.
Dr. Roee Kibrik- Director of Research, Mitvim.
Dr. Omer Zanany- Director of the Israeli-Palestinian Peacemaking Program, Mitvim.
Dr. Maya Sion-Tzidkiyahu- Director of the Israel–Europe Relations Program, Mitvim.
Dr. Moran Zaga- Expert on the Gulf States, University of Haifa • Policy Fellow, Mitvim.
Prof. Elie Podeh-  Professor in the Department of Islamic and Middle Eastern Studies, Hebrew University of Jerusalem • Board Member, Mitvim.
Nadav Tamir- Executive Director, JStreet Israel •  Board Member, Mitvim.