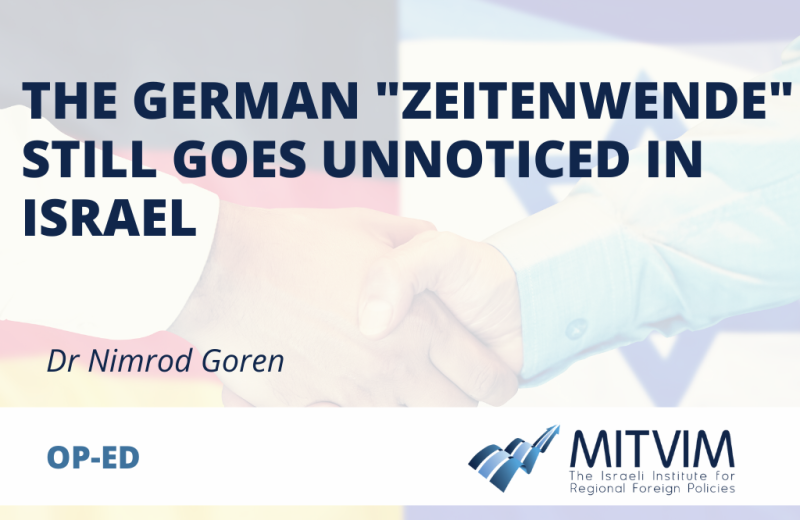 A year ago, in February 2022, Chancellor Scholz delivered a policy statement in the Bundestag, as a response to the Russian invasion of Ukraine. He spoke about a watershed moment, which requires Germany to stand on the right side of history, and specified new elements of Germany's security and foreign policies. In Germany, this was coined a Zeitenwende, a sea change, and perceived as a major development. In Israel, though, it generally went unnoticed.
Germany is Israel's second most important global ally, after the United States, and is committed to Israel's security and well-being, as well as to supporting a two-state solution to the Israeli-Palestinian conflict. When then Prime Minister Lapid visited Scholz in Berlin in September 2022, the Chancellor stressed that Germany "will always stand by Israel" and that "Germany and Israel were the closest of allies, strategic partners and friends". Scholz reiterated this message when congratulating Netanyahu on his November 2022 election victory. In their phone conversation, Scholz emphasized that "Germany would remain a close partner to Israel and would continue to work for peace in the Middle East".
One would expect that, when such an important partner of Israel is at a key turning point, this will have ramifications. Especially, at a time in which Israel itself is transitioning under Netanyahu's new government – away from democracy, further away from peace. In practice, however, business continues almost as usual.
Germany's relationship with Israel is characterized by continuity
Germany's policies towards the Israeli-Palestinian conflict have been characterized by continuity this past year. No paradigm shift has taken place since Scholz's speech. Germany continues to be supportive of the two-state solution; occasionally condemns negative developments on the ground – such as terror attacks, provocations in Jerusalem, or (with other like-minded states) settlement expansion; supports Israel at the United Nations, on issues like the International Court of Justice; and maintains its participation in the low-key Munich Group – an informal grouping, which also includes France, Egypt and Jordan, aimed at keeping the option of a two-state solution alive.
In light of possible Israeli-Palestinian escalation, given the composition and policies of Israel's new government, Germany can reassess its conduct, and seek – in line with Scholz's new approach – to become more active and influential. It could become engaged in de-escalation efforts pursued in light of the sensitive overlap between Ramadan and Passover this coming April; it could utilize the Munich Group as a stepping stone towards the formulation of a new multilateral mechanism dealing with the Israeli-Palestinian issue, instead of the practically defunct Quartet on the Middle East; it could become more vocal in opposing steps by Israelis or Palestinians that increase violence and distance peace; and it could invest more – as the US recently did – in supporting constructive Israeli-Palestinian interaction on the civil society level.
Beyond the aspiration for peaceful resolution of conflicts, Scholz's approach also calls to safeguard democracy and freedoms. While this, too, was mentioned in his speech in the context of the war in Ukraine, it is becoming highly relevant to the domestic situation in Israel as well. The current Netanyahu government is advancing game-changing legislation that – if approved – will shatter Israel's democracy. Israelis from all walks of life are resisting and are taking action for democracy. They look to Israel's Western allies for backing and support. President Biden and his administration are gradually stepping up their criticism of Netanyahu's legal reforms, and are indicating that advancement of the reforms will damage bilateral ties and Israel's interests; President Macron reportedly also raised the issue with much concern in his recent meeting with Netanyahu in Paris.
 Germany should position itself as supporting democracy
Germany's voice has yet to be publicly heard on democratic erosion in Israel. Not on the legal reforms, and not even on the legislative initiative that would impose high taxes on support from German political foundations to Israeli grantees. In the past, Chancellor Merkel effectively pressured Netanyahu to block a bill targeting NGOs, and Scholz should do the same. Alas, the German government is apparently still working to formulate a comprehensive policy towards the new Israeli government. While such a policy is formulated in Berlin, realities are quickly changing on the ground in Jerusalem. Pro-democracy Israelis generally cherish the friendship with Germany and view it as a beacon of liberal values. They expect Berlin to speak up and have their back. To date, this only happened when the German ambassador to Israel criticized a right-wing Knesset member who claimed that the pro-democracy protests are funded by German and Iranian money. More is needed, including a decision not to engage with the far-right members of the current Israeli government.
Scholz's approach also signals increased militarization and securitization. Some in Israel would like to see this materialize. They want to see Germany more proactive in handling security challenges that also pose a threat to Israel – like Iran; they want Germany to be more supportive of Israeli actions to fight terror; they see potential to expand cooperation on cybersecurity and military-to-military relations; and they hope that Germany will bring more pro-Israeli leverage into the Middle East, at a time when the US may be pivoting elsewhere. Should such elements play a more significant role in the future of Israel-Germany ties, it is important that they do not overshadow Germany's traditional added values in the fields of diplomacy, civil society, conflict resolution, multilateralism and liberal democracy.
At a time when Israel is facing a potential sea change moment of its own, and not a positive one, a more engaged and effective German foreign policy could be an asset for those in Israel working to promote peace and safeguard democracy. If that happens, Scholz's new approach will no longer go unnoticed in Israel, it will be applauded and will position Germany on the right side of Israel's history.
This article is from "Friedrich Ebert Stiftung", from February 27, 2023.