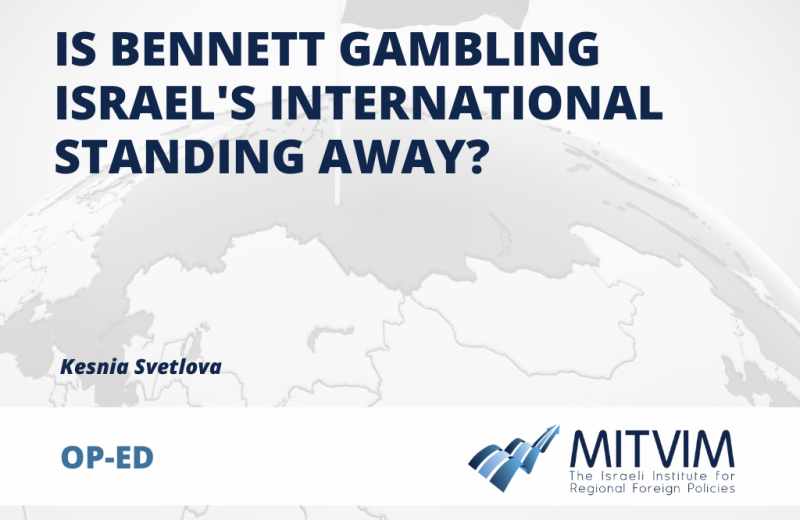 Op-eds / Israel and Europe
Two Middle Eastern leaders are now busy working to mediate a ceasefire between Russia and Ukraine: Prime Minister Naftali Bennett and Turkish President Recep Tayyip Erdogan. Both countries have good ties with both sides in the conflict, and both are dependent on Russia to some extent. Israel's Achilles' heel is Syria, while for Turkey, it is diverse economic ties.
While Erdogan has fulfilled the role on his own terms – speaking to Russian President Vladimir Putin by phone while selling advanced drones to the Ukrainian military and closing the Bosporus Strait to Russian naval ships, Bennett has flown to secret meetings on Shabbat, avoided any condemnation of Russia as well as any weapons sales to Ukraine. Erdogan, whose ties with the West have seen better days, is taking less of a risk. Bennett, who heads the government of a country strategically allied with the US, is putting his neck on the line for mediation efforts between Moscow and Kyiv.
Of course, if there is even the slightest chance of there being a solution that could satisfy both sides, Bennett must take it. Should he succeed, he will earn international recognition and dignity, and honor at home. However, as long as Russia continues to pummel Ukraine, bomb buildings, and massacre innocent civilians, Bennett is perceived as the only Western leader trying with all his might not to anger Putin by avoiding sanctions and condemnation and the only Western leader offering the Russian regime, which now appears more isolated even than North Korea, legitimacy.
On the other hand, Israel's strategic ties to the US and Europe could suffer a significant blow. In both these political arenas, many have already spoken critically of the Israeli position, which is better suited to the Middle East landscape, as the United Arab Emirates, Egypt, and Saudi Arabia have all remained silent on the issue. Both the US and Europe are questioning whether Israel is at all interested in being part of the collective West.
It remains unclear whether Bennett's attempts at mediation in Moscow will be deemed a success. I hope they are. I hope the terrible slaughter in Ukraine will stop without Kyiv having to relinquish its sovereignty and bend to Moscow. But the questions that arise from the contemporary Israeli experience do not necessarily pertain strictly to Ukraine or Russia, but to Israel and its place in the international arena.
The op-ed was published in Israel Hayom in March 2022.