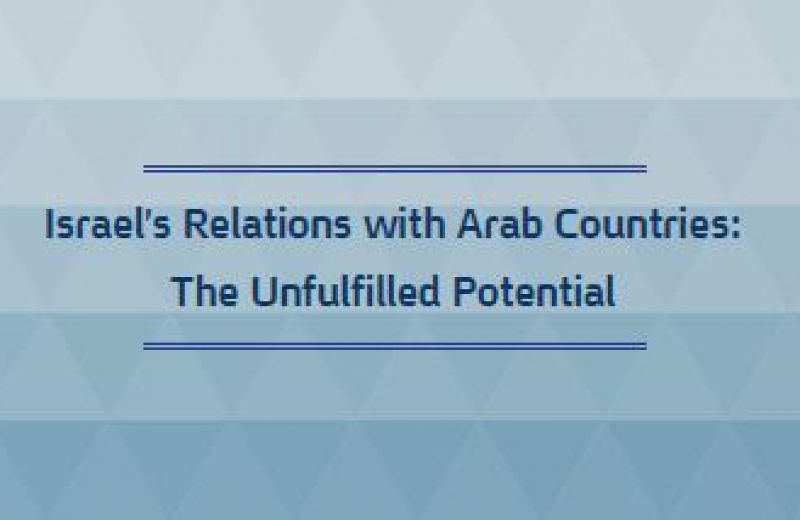 An Electronic Book edited by Dr. Roee Kibrik, Dr. Nimrod Goren, Merav Kahana-Dagan.
Israel's Relations with Arab Countries: The Unfulfilled Potential examines relations between Israel and seven key Arab states – Egypt. Jordan, Saudi Arabia, the UAE, Qatar, Morocco and Iraq – against the backdrop of the changes sweeping the Middle East over the past decade. The researchers mapped out the potential for cooperation with each state based on shared interests, challenges and opportunities, and on the abilities, strengths and needs of Israel and those states. The researchers described existing diplomatic, security, economic and civilian cooperation – relying on open source material, their expertise in the arena and interviews they conducted.
The studies found that despite progress in cooperation between Israel and Arab countries, and notwithstanding certain growing normalization with specific Middle Eastern countries, the strategic-diplomatic, economic, social, civilian and cultural opportunities are significant and far greater than their current level. There is wide-ranging, unfulfilled potential in Israel's relations with Arab countries, and it is more evident now than it was in the past. The ongoing Israeli-Palestinian conflict and absence of significant progress in resolving it constitute the main obstacle to tapping the potential for cooperation between Israel and the Arab world, capping relations with a glass ceiling.
In formulating its policy and actions in the region, Israel should learn the lessons of the past. It must take into consideration current realities and limitations, existing interests and processes. Just as important, it must also shape its actions, assessing and choosing from among various alternatives with a view to the future potential and tremendous promise they hold out. We hope this publication helps those interested in sketching the current complex picture and the potential that lies in relations between Israel and major Arab countries, and paves the way to expanded cooperation and normalization between Israel and its neighbors in the Middle East. As the studies in this publication indicate, the potential for regional cooperation is great and its realization also depends on progress towards Israeli-Palestinian peace.