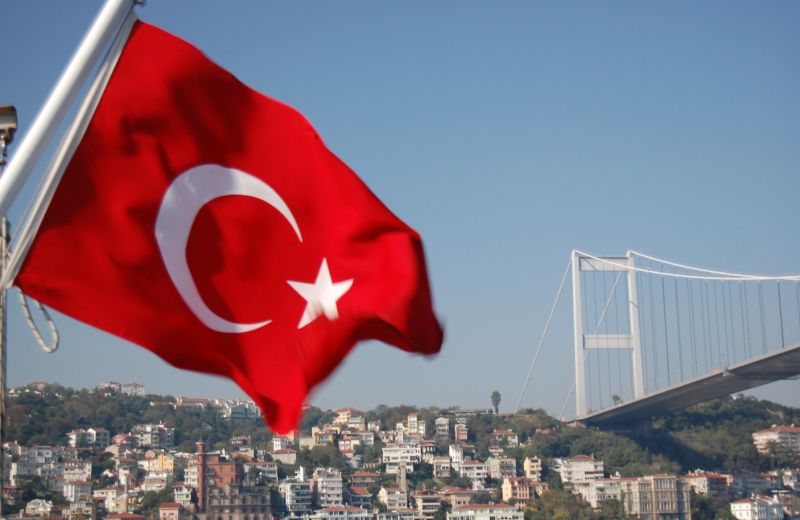 Op-eds / Israel and the East Mediterranean
Most analysts today consider Ahmet Davutoğlu's "zero problems with neighbors" strategy a failure, and typically cite Turkey's decision to lend its support to the Muslim Brotherhood during the Arab Spring as a primary example. However, its failure must also be understood within the framework of a larger narrative where Turkey insisted on functioning as an intermediary between Israel and Syria, and the U.S. and Iran. These episodes, during which Turkey overstepped the boundaries of its influence, revealed the limitations of Turkish foreign policy and foreshadowed its regional decline.
The impetus to reconcile Israel and Syria crystallized after Ankara experienced a warming of ties upon the succession of Syrian President Hafez al-Assad by his son Bashar in 2004. Recep Tayyip Erdoğan and Davutoğlu hoped secret talks would convince Assad and Israeli Prime Minister Ehud Olmert to engage in direct negotiations under the supervision of the U.S., which would serve Turkish strategic interests and score the Justice and Development Party (AKP) international accolades.
However, within six months negotiations had already stalled. With his country on the brink of open conflict with Hamas, Olmert visited Ankara in late December 2008. The two leaders sat in Erdoğan's official residence and poured over details with Assad over the telephone. But four days later, Israel launched a military operation to curtail Hamas aggression, and the negotiations quickly came undone.
For Erdoğan, Olmert's decision to visit Ankara, when he knew full well that the military operation would derail talks, was unforgivable. Rather than salvage the remains however, Erdoğan went on the offensive. Sitting on a panel with Israeli President Shimon Peres at the World Economic Forum in Davos on 29 January 2009, Erdoğan excoriated Israel's actions in Gaza.
Regardless of its dispute with Israel, Turkey remained a key player in the eyes of the Obama administration. Washington was convinced – perhaps because of Erdoğan's previous offers – that Ankara could assist in containing Iran's nuclear program, the dominant issue in American foreign policy. In October 2009, the Obama administration encouraged Erdoğan and Brazilian president Luiz Inácio Lula da Silva to separately and discreetly engage in talks with Iran, as the U.N. Security Council (UNSC) proceeded to deliver a new sanctions resolution.
Instead of proving Turkey's quality as a mediator, the resulting Tehran Declaration positioned Ankara and Washington at loggerheads. On June 9, 2010, the UNSC voted in favor of a sanctions regime. Turkey and Brazil were the only countries to oppose the measure. Some American analysts argued that the Obama administration should never have given such responsibility to a country so dependent on Iranian trade and energy: sanctions on Iran would negatively impact Turkey's economy, and therefore it could not function as an impartial actor. Many characterized the Turkish-Brazilian initiative as simply naïve, while others even claimed that this was yet another example of Turkey trying to distance itself from the West.
There are two lessons than can be derived from these unsuccessful mediation efforts. First, the "zero problems" policy should have only been applied to Turkey's relationship with its neighbors, not the relationships between Turkey's neighbors or relations between various actors in neighboring states. Turkey possesses neither the carrots nor the sticks to be a suitable mediator in those scenarios. More importantly, the affairs of countries in Turkey's immediate neighborhood have too critical an impact on Turkey's own fortunes for it to be considered an unbiased third party. This overextension of Turkish diplomacy came at a serious price. Second, while conceptually the notion of Turkish exceptionalism has found a place in Western political hyperbole, in reality Turkey is ill suited to function as a mediator between Western and Middle Eastern interests. If Erdoğan and Davutoğlu are committed to reframing Turkey's foreign policy, then settling their own country's numerous international disputes must be prioritized over the dream of functioning as an arbitrator in global affairs.