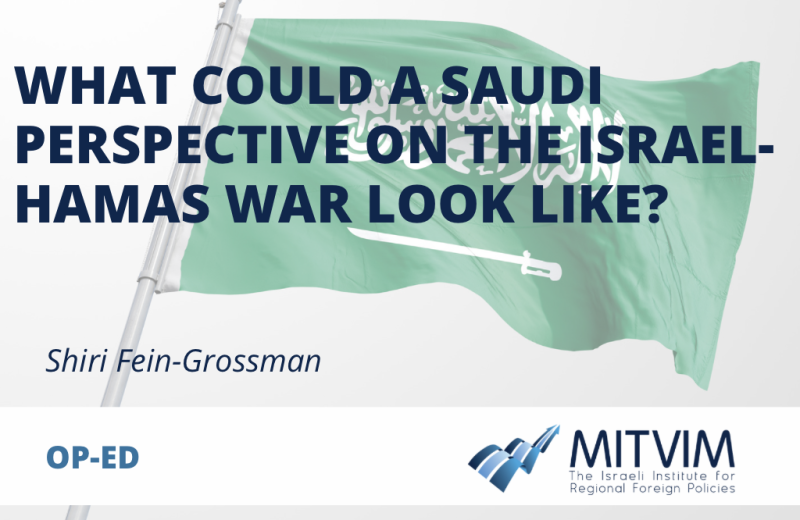 A winning and sustainable strategy for the war with Hamas must be guided by the desired end result of bringing down the terrorist regime, a goal that we must achieve at all costs. A result in which Hamas ceases to exist obliges us to deal with the broader Palestinian issue and the question of who will control the Gaza Strip when the IDF military operation has ended.
The severe crisis in which we find ourselves may be an opportunity to impel Saudi Arabia to take a much more active role vis-à-vis the Gaza Strip and Hamas. Saudi Arabia, under its de facto leader Crown Prince Mohammed bin Salman, aspires to position itself as a regional leader that plays a constructive role in the international arena. This was demonstrated, for example, in its hosting of an international peace summit on the Russia-Ukraine war last August.
Saudi Arabia and Israel's shared goals
Saudi Arabia and Israel have many shared interests, chief among them the struggle against radical Islam propagated by groups such as ISIS and the Muslim Brotherhood. This struggle is consistent with Saudi Arabia's desire to keep improving and strengthening its image as a country friendly to tourism, investment, and business.
Saudi Arabia was by and large uninvolved in past mediation efforts between Israel and Hamas and did not take a significant part in the effort to eradicate Hamas. Saudi Arabia, like Israel, thought it was possible to rein in Hamas.
However, the recent tragic events have proven that Iran, Hezbollah, and Hamas have identified a strategic opportunity to strike a blow against Israel – to take over the West Bank once and for all and unite the Palestinians under extremist Islamist rule.
The intense fighting in the Middle East, so close to the Egyptian border and not very far from the border between Saudi Arabia and Jordan, is projecting negatively on all countries in the region, and the risk of regional war is growing. It also presents Israel with a historic opportunity to join the moderate Arab camp against its sworn rival Iran (along with Qatar, which hosts Hamas leaders, and Turkey, which also supports Hamas).
In order to bring about the collapse of Hamas, we must work together, especially vis-à-vis decision-makers in the United States and other allies such as France, Germany, England, and others.
Normalization could help fight extremism 
The main obstacle to normalization with Saudi Arabia and a regional coalition to fight Islamic terrorism is the Israeli government's opposition to promoting the two-state solution. What is more, to the extent that Israel signals a desire to control the Gaza Strip, while continuing to weaken the Palestinian Authority, it distances prospects of enlisting Saudi Arabia as a partner.
On the other hand, adopting the spirit of the 2002 Saudi peace initiative for renewing Israeli-Palestinian negotiations under American and Saudi auspices would serve American (and Israeli) national security interests of drawing Saudi Arabia closer and distancing it from the Chinese-Russian-Iranian axis. It should be remembered that the Saudis also have important levers regarding global oil prices, which affect the fighting between Russia and Ukraine.
While residents of Arab countries do not enjoy the full freedom of expression enjoyed by residents of Western democracies, their leaders are mindful of public opinion. The Saudi Crown Prince's supreme interest is to maintain and consolidate his rule, a goal for which he needs public support.
This issue is his top priority, and he does not want to risk it, especially in light of the harsh scenes of harm to uninvolved civilians, which is an inseparable part of any war. Public opinion in Saudi Arabia, which only a few months ago reported that support for business and sports ties with Israelis had reached a record of almost half its residents, will find it difficult to accept an alliance with Israel without advancing the two-state solution.
The bottom line is that the likelihood of advancing normalization with Saudi Arabia and enlisting it in a joint struggle against radical Islam will diminish as we continue to avoid advancing the two-state solution.
Choosing the components of the one-state solution, such as occupying the Gaza Strip, controlling it, and continuing to weaken the Palestinian Authority, could lead the Abraham Accords countries (which are already forced to fend off harsh criticism against normalization) to sever relations with Israel. It would severely damage Israel's international legitimacy and thus limit its leeway in fighting Hamas. It would also miss out on a historic opportunity to forge a joint regional camp against Iran and its proxies.
The article was published in the Jerusalem Post on October 31.