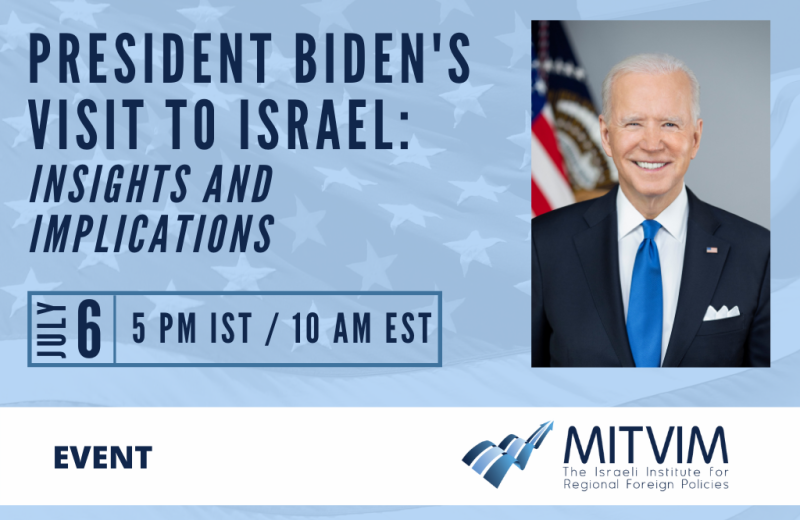 / Conferences
On July 6, 2022, Mitvim hosted a webinar to discuss U.S. President Joe Biden's upcoming visit to Israel, the West Bank and Saudi Arabia. The panelists discussed a wide range of issues that President Biden will confront on his visit, as well as the political ramifications of his stay.
The panel opened with analysis from Tal Schneider, a Political Correspondent at The Times of Israel. She discussed the importance of the visit for US-Israel relations, and stressed the low likelihood of a serious agenda from Washington to progress a two-state solution for Israel and Palestine. Dr. Lior Lehrs, Director of Israeli-Palestinian Peacemaking at Mitvim, added to this point, emphasizing that the policy reversals under the former Trump Administration make it difficult for President Biden to reinstate Obama-era initiatives. Later, Dr. Gil Murciano, CEO at Mitvim, emphasized the importance of the US-Israel relationship for regional ties, both in balancing Iran, expanding normalization, and including normalization countries in peace efforts.
The experts also explored the position of Israeli democracy after the recent collapse of the Bennett-Lapid coalition. Michael Koplow, Chief Policy Officer at Israel Policy Forum, mentioned that the diversity within the Lapid-Bennett coalition was a strong step forward for Israeli democracy. However, the killing of journalist Shireen Abu Akleh, as well as charges of apartheid from the American left-wing, has caused a strain in perceptions. Koplow suggests that US-Israel relations have typically been built on shared values of democracy and liberalism, but that this relationship could be in peril if Americans perceive Israel as adopting illiberal values.
The webinar concluded with a question and answer session moderated by Victoria Solkovits, Director of External Relations at Mitvim, where the experts gave their recommendations for the President on his upcoming visit. Dr. Lehrs said that Biden should use his visit to create new momentum in the peace process between Israel and Palestine, and promote concrete efforts that could bring peace to the region. Koplow suggested that Biden should reframe the conflict in nationalistic terms to shift perception in the United States. Gil Murciano, CEO of Mitvim, said that if he were to meet with Biden, he would convince him to take a more active role in the normalization process and use it as leverage to promote regional peace.
View the full event here.