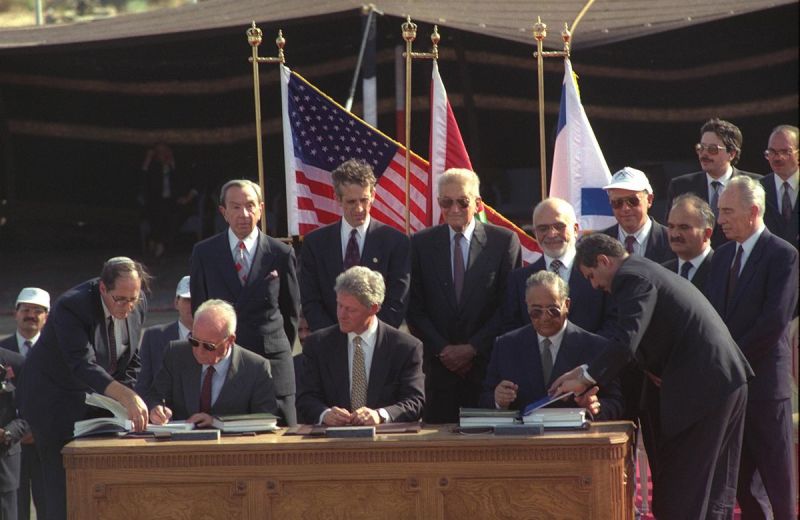 Policy Papers and Reports / Israel and the Middle East
Towards the 25th anniversary of the peace treaty with Jordan, Mitvim experts visited Amman for a series of meetings with political, security, media and civil society figures in Jordan. The purpose of the visit was to assess the current status and challenges of Israeli-Jordanian relations, better understand how these challenges are impacted by the situation in Jordan and developments in the region, and identify opportunities for improving relations between the two countries.
Despite the feelings of frustration, anger and disappointment on the Jordanian side, we returned from Amman with a distinct feeling that the relations could be recharged and saved. After all, both countries have a clear interest in cooperation, and the relationship has survived for 25 years despite all odds, regional challenges and crises, such as the stalemate in the Israeli-Palestinian peace process, the terror attack at Naharayim, the second Palestinian intifada, military operations in Gaza, several crises over the issue of Jerusalem (including the relocation of the American embassy) and hostile public opinion in Amman.
However, the extraordinary potential of relations is yet to be fulfilled. Not only can Israel successfully advance bilateral cooperation with Jordan in tourism, water and high-tech, there are also many prospects of wider, regional cooperation that will allow for increased trade and regional stability. Jordan can also play an important role in the political arena: leveraging its position in relation to Jerusalem's holy places, supporting advancement in the Israeli-Palestinian peace process, and as a stabilizing force in the region at large.
In order to achieve these goals, a restart of the Israeli-Jordanian relationship is required. It is necessary to rebuild communication channels, put the relations with Jordan high on the Israeli agenda, pay attention to Jordan's needs and grievances, and rethink joint projects accordingly. Politicians and decision makers on both sides must fully understand that the cost of non-action and neglecting the relations is extremely high.
This report starts with a snapshot of Israeli-Jordanian relations after 25 years of peace, followed by a discussion of challenges and key issues that were presented by our Jordanian counterparts during the policy dialogue, and ending with recommendations and suggested actions for the immediate term.