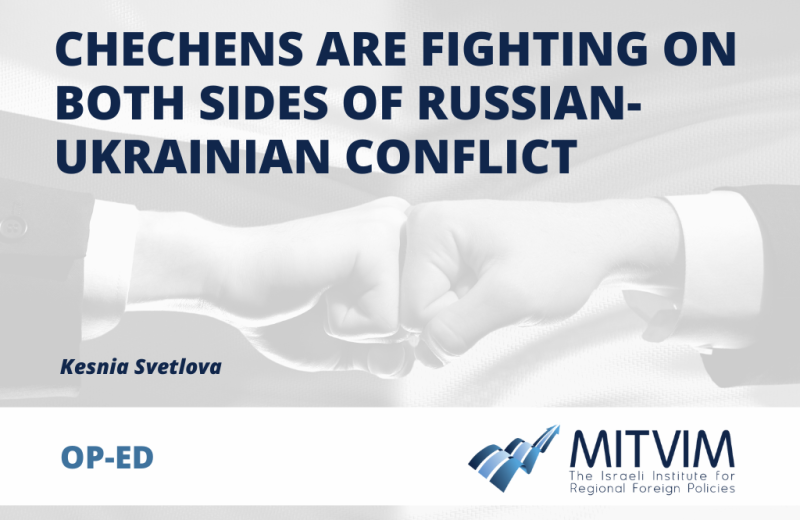 Op-eds / Israel and Europe
mages of Chechen fighters preparing to join the battle in Ukraine on behalf of Russian troops spread widely on social media networks in the early days of the Russian-Ukrainian conflict.
Ramzan Kadyrov, the Chechen leader and an ally of Russian President Vladimir Putin, encouraged them in messages on his Telegram account.
"Uncompromising and universal fighters from the Chechen Republic overcome any difficulties on their way and move like a rapid avalanche. Mashallah! The lions of Allah! Allah Akhbar," wrote Kadyrov, who assumed power in Chechnya after his father, Ahmet Kadyrov, was killed in a terrorist attack in 2004, largely believed to being planned and backed by Russian security forces.
Since Chechen fighters are famous for the brutality and cruelty that they displayed during past wars in Chechnya, Syria and other hotspots, many Ukrainians believe that the videos showing the bearded Chechens marching in front of their leaders were meant to demoralize and intimidate them.
"We know what the Chechens did to Russians, and also to each other, during the war in Chechnya. They are very brutal. But this is our home and we will defend it, even if Ramzan Kadyrov would personally come and fight against us," says Nicolay Shevchuk, 28, from the city of Dnipro, told The Media Line.
However, Kadyrov, who has a mosque in the Arab-Israeli town of Abu Ghosh named after him, is not the only Chechen leader eager to fight in Ukraine, and not necessarily for the same side.
Ahmad Zakayev, a forgotten name from the 1990s who fought against the Russians during the First Chechen War, declared during an interview with the Russian-language, US funded Current Time TV, that Chechens are ready to defend Ukraine against the Russian invasion.
"Participating in foreign armed conflicts is forbidden by law and punishable by jail. It's important to obtain a formal agreement that will allow this form of military cooperation," Zakayev said. According to this veteran of wars with Russia, the Chechens who were already in Ukraine at the time of the invasion have participated in battles in the eastern part of the country.
kavkazr.com news agency that two battalions of local Chechens – the Sheikh Mansour Battalion and the Dzhokhar Dudayev Battalion – already fight in Ukraine. "They defend Kyiv against the Russian troops along with other nationalities who live in Ukraine," Bakaev said.
On Sunday, Ukraine's President Volodymyr Zelenskyy urged foreigners to head to Ukrainian embassies worldwide to sign up for an "international brigade" of volunteers to help fight invading Russian forces.
British Foreign Secretary Liz Truss told BBC that she would support UK citizens who chose to defend Ukraine. "They are fighting, the people of Ukraine are fighting for freedom and democracy, not just for Ukraine but for the whole of Europe because that is what President Putin is challenging. And absolutely, if people want to support that struggle, I would support them in doing that," Truss said.
In addition to British citizens, Americans, Germans, Poles and many others have expressed interest in joining Ukrainian forces and fighting alongside them. Meanwhile, a Croatian journalist revealed that a group of Croats is leaving for Ukraine to join hands with the Ukrainian army in defense of the country.
This is not the first time that foreign fighters have come to defend Ukraine from the Russians.
During the war in 2014, many foreign fighters joined the notorious Azov Battalion, a far-right militia with connections to neo-Nazism. According to Russian and Ukrainian sources, many volunteers who joined Azov began in far-right movements in Europe. Today, members of far-right movements in the United States and Europe are eager to join the "nazbaty" – the national battalions, such as Azov.
Anna Zharova, CEO of the Israeli Ukrainian Alliance, says that it is important to stick to the truth and avoid disinformation that is often spread by the Russian media.
"International fighters who fight for Ukraine are not something new. We also had fighters who volunteered to help Ukraine in 2014, among them many Israelis and Georgians. They worked closely with the Ukrainian army and many served as instructors. As far as I know, the majority worked with the army, not with nazbaty," she said.
While the debate on foreign fighters heading for Ukraine is ongoing, many Israelis have expressed interest in helping Ukraine and joining the fighting. Some left their phone numbers on the web page of Ukraine's embassy in Tel Aviv, while others asked to be contacted if a group of Israelis travels to Ukraine for that purpose. Many are concerned about the legal ramifications, however.
Nathan, who agreed to talk to The Media Line on condition of anonymity, expressed his readiness to join the fight. "I served in the IDF, in one of the elite units. I can give a lot to the Ukrainians, but I have to be certain that I will not be prosecuted for that," he told The Media Line.
Many Palestinians online had expressed their anger regarding the possibility of Israelis joining the fight in Ukraine, blaming Zelenskyy for supporting Israel in the Israel-Palestinian conflict. In what seems to be the defining moment for Russia and Western relations in the 21st century, many in the Middle East and beyond are taking sides according to their own relationships with Russia and Ukraine, and have affiliated themselves with these countries and their people based on their own hopes, disappointments and grievances.
The op-ed was published in The Media Line in February 2022.