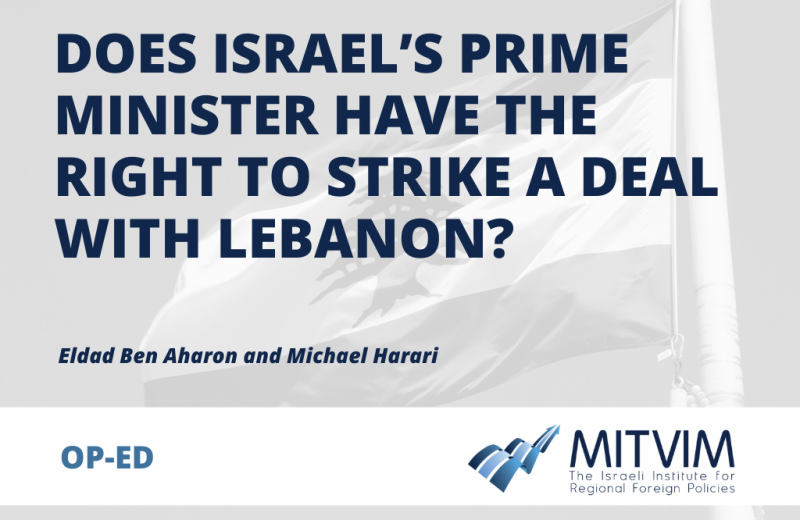 Op-eds / Israel and the Middle East
The nearly concluded yet still on-off negotiations between Lapid's caretaker government and Lebanon regarding their maritime border raises a crucial question: Do Israel's provisional governments have the authority to negotiate far-reaching decisions in foreign policy and national security realms, in this case its maritime borders with Lebanon?
The main challenge concerning a provisional government taking steps of this magnitude regards Israel's fundamental definition as a parliamentary democracy. Israel's government serves by virtue of the trust granted to it by a majority in the Knesset. Clearly, transitional governments which do not have a Knesset majority do not enjoy this legitimation of their power.
That is a point that opposition leader Benjamin Netanyahu has been trying to hammer home, in the context of his wider campaign against interim Prime Minister Yair Lapid before the November 1st elections. There is no doubt that both politicians are trying to maximize profits from their bases on the Lebanon border issue and to present the other party's position as illegitimate.
As it stands, the maritime border deal helps Lapid to establish a public image as the confident prime minister who doesn't shy away from confronting hard decisions for the sake of unprecedented gains – for example, Lebanon's de facto recognition of Israel's existence. Netanyahu, in response, frames Lapid's negotiating tactics as a treacherous selling out to Hezbollah.
Even if it is crystal clear that Lapid is trying to leverage the emerging agreement with Lebanon to shore up his stature among the electorate, that does not undermine the contention that this negotiation is vital to Israel's national interest. But Lapid must provide prove its necessity during this sensitive period, a month prior to the elections, both by public diplomacy, by cabinet ratification and by government legal advice.
Can a caretaker PM conduct international negotiations?
Article 30 (b) of the 2001 Basic Government Law states: "The provisional government is appointed for the purposes of fulfilling its duties as the executive authority until a new government is established." Nevertheless, it's not as simple as it may sound.
When Ehud Barak, who had resigned as prime minister on 12 January 2000, wanted to conduct negotiations with the Palestinian Authority during his 2001 provisional government, the Supreme Court opined that he could in fact do so, but that, any agreement must be submitted to the Knesset for approval.
The Supreme Court especially emphasized two central principles: reasonableness and proportionality, and the need for a "flexible approach that balances restraint and action, according to the circumstances of the matter at hand and taking into account the changing reality." So how would this apply to an accord between Israel and Lebanon
Balancing "vital need" and "duty of restraint"
It is necessary to distinguish between two basic types of issues concerning foreign policy and national security during the period of a provisional government:
· "Vital need": The provisional government must serve the national interests of the State of Israel. Contexts that enjoy near-consensus include ongoing efforts to prevent Iran from developing a nuclear capacity, fighting regional terrorism, and promoting and embedding regional allyships such as the Abraham Accords.
·"Duty of restraint": Other strategic issues that enjoy less consensus, serve narrower political interests or are liable to be interpreted as a form of poll-day grandstanding, including negotiations with the Palestinians and initiating military operations, which may be interpreted as an attempt to wink at the electorate.
What will happen next?
A Lebanese-Israeli agreement falls squarely into the first group: a sensitive issue but definitely within the boundaries of Israel's national security interest. An enemy state recognizing Israel's right to exist within defined borders (including the complicit agreement of Israel's most formidable enemy group, Hezbollah); a strategic economic boost for Israel and for Lebanon, with the hope that two neighboring gas platforms could raise higher the barrier for future conflict; but also the avoidance of a conflict that could break out if no agreement is reached.
No one in Israel's political landscape would like to see another round of violence with Hezbollah as a result of this deal failing, even if Israel has already put its military on alert in case of any deterioration in the security situation on the northern border.
Another issue often brought up by skeptics on the right is whether an agreement with Lebanon would necessitate a referendum, as required for any change to Israel's international borders.
But with this deal, Israel is not being asked to withdraw from territory or amend its borders (bearing in mind the disagreements with Lebanon regard the extent of their maritime economic zones and not sovereign territory). Even Yuval Steinitz, the former Likud finance minister, who is now criticizing the current deal and the caretaker government, has been arguing that no referendum is needed. Netanyahu's own provisional government ratified the 2020 Abraham Accords without any referendum.
Despite the proximity to another round of elections, despite the politically charged climate, the deal between Israel and Lebanon meets the legal criteria of a "vital need" for Israel's national security and a successful conclusion to the negotiations would be clearly line with Israel's national interests. And for a deal of that strategic value, a caretaker prime minister is more than justified and legally empowered to close it.
This article is from "Haaretz", from October 9, 2022