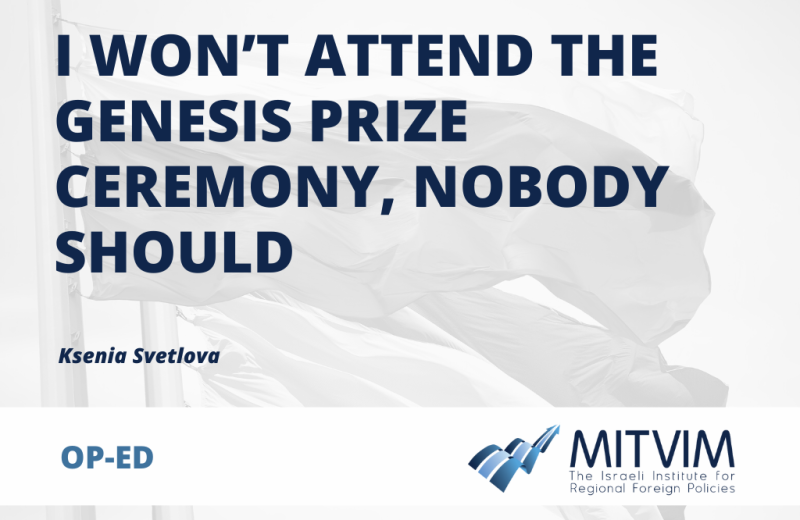 Op-eds / Russia-Ukraine
A few weeks ago I got a call from a Genesis Prize Foundation representative kindly asking me to confirm my attendance at the annual ceremony taking place this week in Jerusalem. The recipient of the prize, chairman and CEO of Pfizer Albert Bourla, was announced on January 19, just over a month before Russia launched its bloody war against Ukraine. Now, despite all that has happened since then in Ukraine, it's time for a glitzy ceremony at the Jerusalem Theater financed by a number of very rich individuals who had for years been integral players in Vladimir Putin's ecosystem.
I politely declined the invitation, but the caller insisted on knowing why. When I told her that the founders and financiers of the Genesis Prize, Russian oligarchs Petr Aven, Mikhail Fridman and German Kahn, are now sanctioned by the EU, Britain and Canada, the caller was astonished – it was the first she'd heard about it. Long after we finished the conversation, I kept thinking about the Genesis Prize and about this inappropriate event amidst the human tragedy now unfolding in Ukraine.
A few years ago, while a Knesset Member, I attended the first Genesis prize ceremony when Michael Douglas was awarded the prize, which he then donated to charity. Many government ministers and MKs, as well as Israel's president, were in the room. Mikhail Fridman, one of the richest Russian oligarchs (in 2021 he made it to the Forbes Top 20 list of rich Russians amid fierce competition), was beaming with satisfaction as his project took off. Born in Lviv, Fridman managed to survive through hard times, when President Putin went after the oligarchs in the early 2000s and took away their money and their independence. Fridman seemed to know how to play the game and unlike Mikhail Khodorkovsky or Leonid Nevzlin (the first was incarcerated for 10 years and the second moved to Israel), he never tried to challenge Putin or to finance opposition activity.
In 2014, when Putin annexed Crimea and established two proxy entities in the Donbass region, Fridman didn't protest or object to that violent prelude to the 2022 war against Ukraine. Instead, he applied for a "golden passport" in Malta. As Russians like to put it, he wanted to secure for himself an "alternate aerodrome," a safe place to land in an emergency. Fridman, who also has Israeli citizenship, never got his Maltese passport. In his application, he indicated that he was not a "significant political figure." Authorities in Malta, a member of the EU, thought otherwise.
In 2021 Fridman made it onto the FATF (Financial Action Task Force) list of potential dangerous business partners in Russia. In February of this year, the European Union blacklisted Fridman and had all his assets frozen. Petr Aven and German Khan, his long-term partners and fellow former members of the Genesis Philanthropy Group board, were also slapped with sanctions.
In May the British authorities backed out of their promise to lift sanctions against Mikhail Fridman and Petr Aven, who, as part of the arrangement, donated US$150 million to humanitarian aid for Ukraine. Their accounts remained blocked, and Aven also faced a criminal case, while his famous collection of art objects was sanctioned. As a bonus, both of them were denied entry to the continent.
Today the oligarchs are fighting the EU sanctions (which they call groundless) in the courts. The three of them stepped down from the leadership of Alfa-Bank in order not to jeopardize the bank and other investment entities associated with it. The trio had also stepped down from the board of Genesis Philanthropy Group, however, there is little doubt where the money for the award and the ceremony comes from.
At the moment, Fridman, as well as Aven and Khan are working to regain access to their frozen funds – they fight in court, donate to Ukraine, and complain they don't have enough money to pay their cleaning services. Mikhail Fridman even applied for a Ukrainian passport (apparently the Israeli one he carries is not good enough). None of them protested when Putin prepared his war, none of them denounced his previous aggressions against Georgia or Ukraine, while their Alfa-Bank handled exclusive contracts for Russian defense industry and had everything to do with Russia's military machine. All of them are subject to heavy sanctions at the moment.
This reality casts a heavy shadow over the "Jewish Nobel" ceremony taking place this week in Jerusalem. I won't be sitting in that room, but I'm sure many Israeli politicians and public figures will. Perhaps they don't believe that the war in Ukraine is a global matter that matters for Israel too. They apparently see no problem with a ceremony long-sponsored by Russian oligarchs who were for too long involved in Putin's show even if today they try so hard to absolve themselves from any connections to Putin.