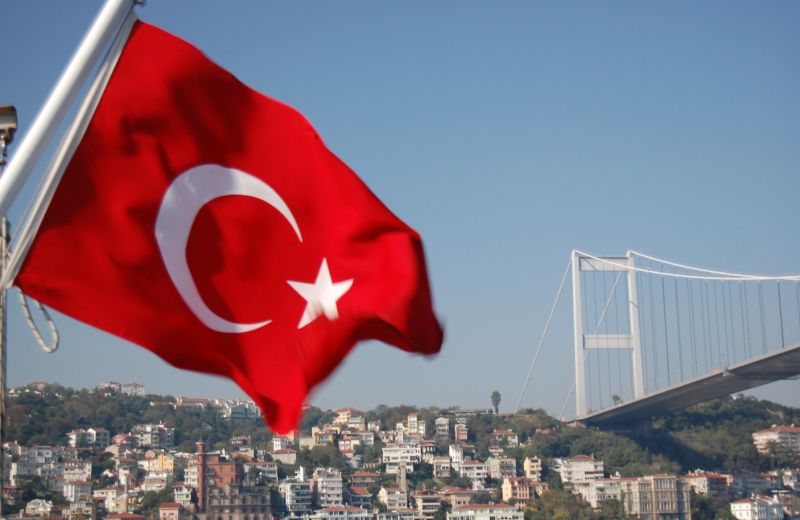 Op-eds / Israel and the East Mediterranean
Turkish Prime Minister Recep Tayyip Erdoğan's September 2011 visit to Cairo was full of pomp and circumstance. Thousands of adoring Egyptians welcomed him waving Turkish flags and sounding their support. At the time, Time Magazine said Erdoğan was greeted "like a rock star."
Two years later Erdoğan has become a persona non grata in Egypt. Following Morsi's downfall, Erdoğan and other Turkish ministers lashed out at the Egyptian Army. Erdoğan considered Morsi's ouster a blow to democracy and a betrayal of the popular will, and resolved that Turkey could not sit back as the violence in Egypt escalated.
Erdoğan sparks outrage in Egypt. He is perceived to be meddling in Egypt's internal affairs and his conduct considered a breach of diplomatic protocol, aimed at further dividing Egyptian society.
As the tension mounted, Egypt also announced that it would deny Erdoğan access from its territory to the Gaza Strip. This supposed sanction may be a blessing in disguise for Erdoğan. Since 2011, Hamas leaders and residents of Gaza have been awaiting Erdoğan's visit. Dates have been set, announcements made and plans approved – but the visit has yet to take place. Reasons vary, but Erdoğan's inability to carry out his Gaza visit exemplifies the gap between Turkey's foreign policy declarations and their implementation.
These recent tensions undermine one of the interesting post-Arab Spring coalitions. During Morsi's term, Egypt and Turkey, two Western allies who, in the past, inhibited each other's efforts to gain regional hegemony, began building an intimate relationship.
The rise of Egypt's Muslim Brotherhood was welcomed by Erdoğan. It was thus only natural for the AKP to invite Morsi to Turkey, as a guest of honor, at its September 2012 congress.
Turkey was delighted to lend a helping hand, promising Morsi's Egypt unprecedented financial aid. The two nation's militaries also began building closer relations. In November 2012, Erdoğan made another visit to Egypt; this time under the pretext of Israel's operation; a crisis that also motivated Davutoğlu to visit Gaza while hostilities were still ongoing.
Davutoğlu coined the term "Axis of Democracy" to describe the emerging relationship between Turkey and Egypt. However, in a development evocative of the collapse of the strategic partnership between Erdoğan and Bashar al-Assad following the outbreak of the Syrian Civil War, the Turko-Egyptian partnership did not survive the upheaval in Egypt.
Erdoğan may have considered Morsi an ally, but he was not devoid of criticism of his policies. In his 2011 visit to Cairo, Erdoğan marked the path which he believed political Islam in Egypt should pursue, sparking resentment among Egypt's Muslim Brotherhood. "I hope the new Egyptian regime will be secular", he said, adding that while he personally was a Muslim, the nation which he headed was a secular one. "I recommend a secular constitution for Egypt," declared Erdoğan, emphasizing that secularism was not an "enemy of religion."
The roadmap that Erdoğan outlined was, in his opinion, the key to success, for a religious party aspiring to successfully rule over a country where the military establishment and a large portion of the public consider political Islam an enemy. Erdoğan's attempt to do so in Turkey was successful. Morsi's similar Egyptian endeavor was not.
In 2011, Egypt's Muslim Brotherhood dismissed Erdoğan's warning as an intervention in internal Egyptian affairs. "You cannot transfer the experience of other countries to Egypt," responded the movement's spokesman. Indeed, Erdoğan's advice was not heeded and the policies Morsi implemented in its place contributed significantly to his ouster.
During his term as president, Morsi chose to follow in the footsteps of Necmettin Erbakan, Turkey's Islamist Prime Minister, who was overthrown in 1997 following a military ultimatum, after only one year in office. The perception of Morsi was that of a president with a decidedly Islamist agenda, who preferred to appoint members of the Muslim Brotherhood to key government positions and attempted to rapidly undermine the secular establishment.
Morsi was viewed as a president who had the Muslim Brotherhood's interests and not those of the Egyptian people, at heart. This approach significantly contrasts that adopted by Erdoğan during his first years as prime minister. These days Erdoğan might miss Morsi, but he undoubtedly believes that had the Egyptian Prime Minister heeded his advice – his would have been a different fate.