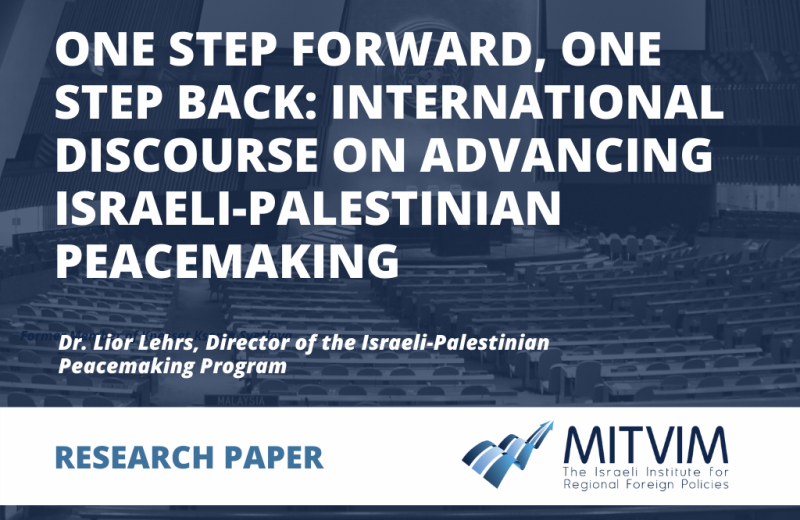 Introduction
The Israeli-Palestinian peace process has been locked in a stalemate since the 2014 collapse of the US mediation initiative led by then-Secretary of State John Kerry. The relations between the parties have been all but severed and characterized by a series of crises and tensions that peaked over Israel's 2020 West Bank annexation plan. While the Israeli-Arab normalization agreements removed the annexation idea from the agenda, this did not change the Israeli-Palestinian situation. Developments in recent months in the Israeli-Palestinian arena pose challenges and risks but also new opportunities and possibilities. Special attention should be paid to the impact of the May 2021 escalation, the deep crisis in the Palestinian Authority (PA), and the establishment of a new government in Israel.
This paper maps the international discourse on advancing Israeli-Palestinian peace under the current conditions, and constitutes a follow-up to the paper we published in April 2021. It is based on a series of dialogues held by Mitvim Institute experts in August and September 2021 with European, American and Palestinian diplomats and experts, as well as UN officials, and also on a series of discussions among a team of Israeli experts formed by Mitvim.[1] The paper offers an analysis of the positions and perceptions of international actors regarding the effects of the latest developments on the Israeli-Palestinian arena, and their insights and conclusions about the feasible and desired measures that could be undertaken to advance Israeli-Palestinian peace.
[1] The dialogues were conducted under Chatham House rules. Accordingly, this article does not mention participants' names and does not attribute direct quotes to them. The dialogues were led on the part of the Mitvim Institute by Dr. Lior Lehrs, Dr. Gil Murciano and Dr. Nimrod Goren.