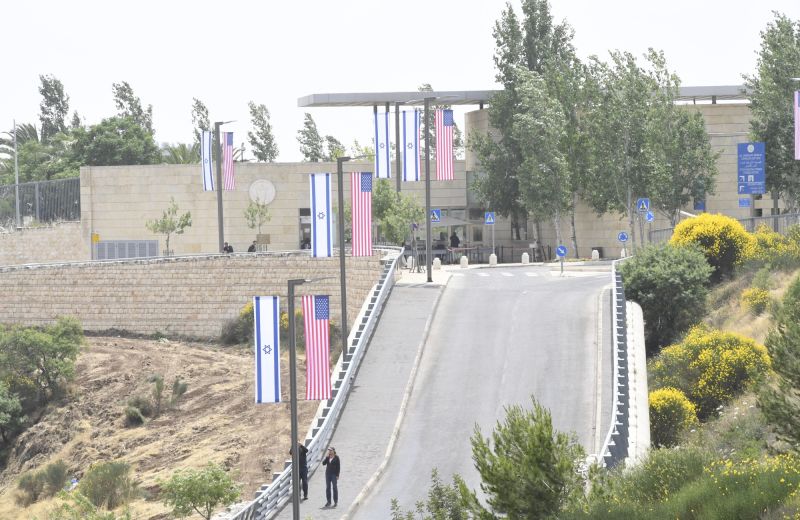 Policy Papers and Reports / The Israeli-Palestinian Peace Process
From the 1950s onwards, Israel invested much effort in convincing states to open embassies in Jerusalem. Until 1962, the U.S. actively opposed this Israeli policy, advising countries to refrain from opening embassies there. American involvement on the issue dissipated in the early 1960s in parallel to the development of the Israel-U.S. special relationship. By this time, Israel's attempts showed signs of success. By 1967, almost 40 percent of the 54 diplomatic missions in Israel were based in Jerusalem. These were largely representatives of African and South American countries, to whom Israel promised aid allocations in return.
This situation changed dramatically in 1980, following the Israeli decision to annex East Jerusalem. The UN Security Council condemned Israel and – with the US abstaining – passed Resolution 478 that called upon "states that established diplomatic missions at Jerusalem to withdraw such missions from the Holy City". As a result, foreign embassies began leaving the city and relocating to Tel Aviv and the surrounding area. Costa Rica and El Salvador were the only two countries to maintain embassies in Jerusalem, after leaving the city in 1980 and re-opening their embassies there in 1982 and 1984 respectfully. Eventually, they too decided to relocate their embassies in 2006, following Arab pressure.
In the U.S. political arena, the issue of relocating the embassy was first raised in the leadup to the 1972 presidential elections. Since, it has become a regular and popular preelections promise, and in every instance, that promise was walked back after the election dust had settled. In the early 1980s, legislative attempts to formalize the embassy move began circulating in Congress. These legislation attempts reached their peak in the 1990s, in the days of the Oslo peace process between Israel and the Palestinians. Right-wing Israeli politicians, together with partners in AIPAC, advanced legislation in Congress to move the U.S. embassy.
It was clearly a move to jeopardize the Israeli-Palestinian peace process, by highlighting Jerusalem as an issue of controversy. Then-Prime Minister Yitzhak Rabin, who felt obliged to publicly support a move nominally aimed at strengthening Israel's capital, conveyed behind closed-doors his opposition to the legislation. He regarded it as a politically motivated move to undermine his policies. The legislation eventually passed in Congress in 1995. Since then, until the May 2018 embassy relocation, every six months – in June and in December, the U.S. President, whether Democrat or Republican, has signed a waiver postponing the implementation of the bill on the grounds of U.S. national security considerations. Among the reasons leading to the signing of these waivers was the concern that relocating the embassy would jeopardize the ability of the U.S. to serve as an honest broker and as a credible negotiator between Israel and the Arab world.