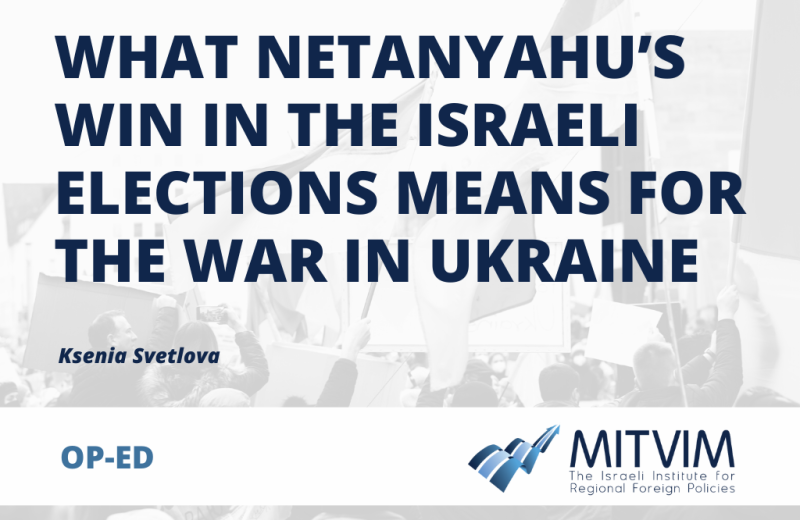 Op-eds / Strengthening Israel's Foreign Policy
The results of the latest Israeli elections were widely covered — and celebrated — by the state-controlled Russian media. The results of the exit polls were announced on the evening news, and the astounding victory of Benjamin Netanyahu — Israel's longest-serving prime minister — was discussed in detail on popular talk shows on federal TV channels.
It was impossible to miss the positive and optimistic coverage of Netanyahu, and it brought to mind similar coverage of President Donald Trump's campaign and victory in 2016. When the Kremlin looks at Netanyahu, it sees a friend with whom Moscow can find a common language.
This sentiment was perfectly expressed in a recent Telegram post by Alexei Naumov, an expert at the Russian International Affairs Council: "The return of Benjamin Netanyahu to the PM's office in Israel is good news for Moscow, and the point here is absolutely not whether he is 'Putin's friend' or not. He is a friend of the Russian vision of the world."
Naumov explains that Russia prefers countries that mind their own business, not "the interests of mankind," preferring "the Erdogans, Trumps and Netanyahus" of the world over the "difficult" Bidens and Johnsons. The Kremlin is pleased that Netanyahu will most likely "take care of Israel's security interests" but be "absolutely numb to the ideology of the future of the human race."
Naumov's assessment is correct, but also troubling. For the past eight months, Netanyahu has been extremely quiet about the ongoing war in Ukraine. He has never called the war a war, and didn't make any reference to the invasion at all until very recently.
During a late October interview with MSNBC, Netanyahu placed his support behind the "prudent" policies of the Bennett-Lapid governments regarding Ukraine, and added that weapons supplied by Israel in the past to foreign governments "in one battlefield end up in Iranian hands used against us." Officially, Israel refrains from supplying weapons to Ukraine, fearing Russian retaliation in Syria or on other fronts.
Soon after this interview, Netanyahu told USA Today that he would "look into the possibility of supplying weapons to Ukraine" if he were to return to the prime minister's office. "We all have sympathy for Ukraine," he added. "It's not even a question, and I'm no different."
The Russians, who previously had been fast to condemn and threaten Israel over every rumor about possible weapon supply to Ukraine, surprisingly didn't make any reference to Netanyahu's campaign promises in their post-election coverage. Perhaps they believe that they know him well, and that it would be significantly easier for Moscow to find a common language with a man who wrote in his recent memoir that "Putin is smart and insightful and completely focused on one goal as a politician: to restore Russia to its historical greatness," than with the alternatives.
Indeed, Netanyahu might soon find himself under a Russian "friendly offensive": he might get a call from Putin to congratulate him on his victory, or receive a suggestion from the Kremlin to host a visit of a Russian diplomat or politician to Israel.
Just a year ago, Netanyahu — who used a photo with Putin in a 2019 campaign poster — would probably have been delighted. But these days, when any coziness with the Russian leader is considered toxic in the West, he might feel differently.
In March, Israeli Prime Minister Bennett tried his luck mediating between Moscow and Kyiv. Lacking any powerful tools or personal connections, Bennett was unsuccessful in his stint as peace broker, and quietly put an end to this saga.
Netanyahu might want to explore this direction, too, in order to maintain his ties to both sides without risking American ire, as well as to promote his image of a seasoned and respected international politician.
It's unclear how this kind of initiative will be perceived in Washington, and how Netanyahu will be able to explain his friendly ties with a Moscow that gets closer each day to Tehran.
Logic suggests that, as U.S. intelligence indicates that Russia might repay the Iranians by assisting their nuclear program, any Israeli leader would draw a clear red line. All the more so Netanyahu, who has long campaigned to stop a nuclear Iran.
But it remains to be seen what policies Netanyahu will wage on Russia, Ukraine and Iran. How he will maneuver Israel's essential relations with the U.S. and ties with his old friend Vladimir Putin is very much an open question.
As of today, in Russia, it's obvious that Moscow is currently optimistic about Netanyahu's victory. It never made a secret about its view of his political adversary, Prime Minister Yair Lapid. Now, the Kremlin believes it has a much friendlier leader with whom to work.
Moscow will probably make a move to test the waters the moment Netanyahu forms a government and starts his term. However, in our new, post-Feb. 24 invasion reality, it might also find out that the tide is turning, and that warmness with Israel is a thing of the past.
One can only hope.
This article is posted in "Foward" from November 8, 2022