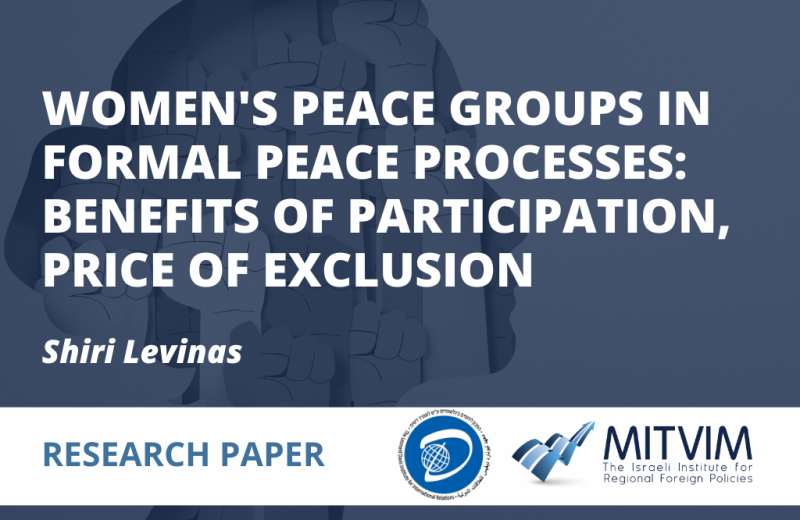 Research / The Israeli-Palestinian Peace Process
Women's peace organizations work to end violence and promote peace agreements almost everywhere where conflicts occur. Studies and observations from the past 20 years show that these organizations contribute significantly to peace processes, despite their variation in forms, methods, and the extent of their involvement. In the context of formal negotiations and the formulation of peace agreements, the integration of women's peace organizations was found to increase the prospects of reaching an agreement, as well as to change and enhance the nature and content of the agreement itself (including governance, social justice, rehabilitation, gender equality, etc.). Their integration was also found to significantly increase the feasibility of implementing the agreement and promote women's representation in the political system. However, in Israel, as in most countries, decision makers marginalize women's peace organizations despite their extensive work and significant contributions. This article examines the main barriers preventing the participation of women's peace organizations in Israeli-Palestinian peacemaking, the price of their exclusion, and the actions needed to integrate them and express their potential. The article is based on interviews conducted in 2019 and 2020 with women-peace activists from Israel and beyond, as well as a review of research literature and case studies of women's peace organizations in Israel and abroad. It outlines some of the prices Israeli society pays for women's exclusion and recommends actions that may promote their integration into formal peacemaking efforts.
This is the third in a series of papers of a joint project by the Mitvim Institute for Regional Foreign Policies and the Davis Institute for International Relations at Hebrew University examining selected actors' contribution to the advancement of Israeli-Palestinian peace.