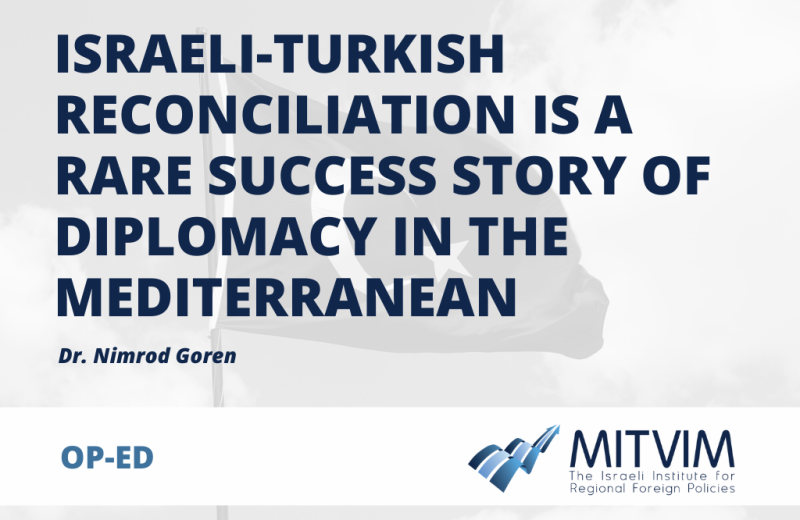 Op-eds / Israel and the East Mediterranean
On August 17, Israel and Türkiye announced they would fully normalize their ties and reappoint ambassadors and consul generals after four years.
A month has passed and, for the first time since 2008, a Turkish leader and an Israeli prime minister are expected to meet today, on the sidelines of the UN General Assembly. This is a diplomatic success story uncommon in the conflict-ridden Mediterranean. Examining the key factors that enabled the gradual transformation of Israeli-Turkish relations in 2021 and 2022 could help other countries in the region that are seeking to improve ties achieve this goal.
The opening conditions were difficult, with tensions being the norm in relations over the last decade. Starting with Israel's Cast Lead operation in Gaza in 2008 and continuing with the Davos and Mavi Marmara flotilla incidents in 2009 and 2010 respectively, relations were mostly in crisis mode. The failure of a reconciliation agreement reached in 2016 within only two years of its signing intensified this. It also led to increased skepticism in both countries as to whether long-lasting reconciliation was attainable and whether the other side was trustworthy and serious in its intentions.
Tensions between Israel and Türkiye, initially based on deep differences regarding the Palestinian issue (mostly related to Hamas, Gaza, and Jerusalem), became further fueled by more recent geopolitical divergences. Israel developed meaningful relationships with countries that Türkiye was at odds with—Cyprus, Egypt, Greece, and the United Arab Emirates—while Türkiye built economic cooperation with Iran and engaged in talks with it and Russia regarding Syria. Each country regarded the other as part of a rival regional camp, sometimes in an exaggerated manner due to an insufficient understanding of each other's interests. The ongoing tensions and harsh rhetoric generated negative mutual perceptions, lack of trust, and a disconnect between the Israeli and Turkish leaderships.
Nevertheless, relations were sustained, albeit on a limited scale and via relatively low-level engagement. For several years, there was no sense of urgency to change this; the status quo seemed to work and to address sufficiently the needs of both countries. Bilateral trade even reached new heights during this period. There was little public pressure in Israel or Türkiye to normalize ties and almost no champions for doing so within their respective political systems. Finally, there was not much interest among the international community in investing political capital to bring the countries closer together.
Several factors stand out in how Israel and Türkiye managed to overcome this situation and succeeded in opening a new and promising chapter in their relationship. They include the historical resilience of ties, the consistency of Türkiye's interest in improvement once it decided to advance it, the change of leadership in Israel, the practicing of effective diplomacy, the successful design and implementation of a gradual diplomatic process, the setting of a positive agenda, the restoration of dialogue and trust, some geopolitical convergence, and electoral considerations.
A Multifaceted Enabling Context
Israel and Türkiye have enjoyed diplomatic relations since 1949. Although occasionally downgraded in response to disputes, these were never cut off. Ups and downs were characteristic of the relationship throughout the decades. In 2016, President Recep Tayyip Erdoğan and Prime Minister Benjamin Netanyahu set a precedent when they reached an interest-based agreement to repair relations and resolve the flotilla crisis. Türkiye then walked back on reconciliation in 2018, following the relocation of the US embassy in Israel to Jerusalem and multiple Palestinian casualties caused by Israel in protests near the Gaza Strip border.
The historical resilience of relations provided a supportive framing for yet another reconciliation process to be launched, however. And, in parallel, unofficial connections—through nongovernmental organizations, academia, business, and cultural actors—helped maintain ties even in difficult years and repeatedly helped to bounce back from crises.
The consistency of Turkish interest in improving ties—which started in December 2020 when Erdoğan publicly spoke in favor of better relations with Israel, while still criticizing Israeli policies toward the Palestinians—was an important factor. Although its initial signals about wanting warmer ties were taken with a grain of salt and largely disregarded in Israel, Türkiye continued to convey this message. It also accepted the slow pace of progress, which was what Israel's government wanted, and it found ways to respond to Israeli-Palestinian tensions in Jerusalem and to the escalation in Gaza without damaging the prospects for reconciliation. This helped convince skeptics in Israel that it was worth exploring whether normalization was feasible.
The change of leadership and the formation of a new government in Israel in June 2021 provided a game-changing opportunity. The new government did not start off as a friend of Türkiye. Most of its senior members were critical of the country and of Netanyahu's 2016 agreement with Erdoğan, and they did not place reconciliation on their agenda. Nevertheless, Netanyahu's ousting shook things up and provided an opportunity to seek a fresh start.
The election of Isaac Herzog as president of Israel in 2021, in parallel to the formation of the new government, was a major turning point. His positive approach toward Türkiye (including a family-related angle), diplomatic skills, support for regional cooperation, and constructive rhetoric were key factors. He received backing from the government to test the waters with Türkiye, and his successful efforts created conditions for reconciliation and persuaded previously skeptical Israeli politicians. Supporters of reconciliation gradually emerged in the public sphere, filling the previous void.
Beyond political leadership, professional and effective diplomacy were major factors in bringing success. Diplomacy is about building relations and finding common ground, even in times of tensions and crises. Career diplomats from both countries exemplified optimism and determination as they quietly improved the situation and dismantled obstacles. The empowerment of Israel's foreign service under the new government enabled skilled diplomats to take a lead and make a more significant impact than they could have under Netanyahu, who deliberately weakened the Ministry of Foreign Affairs during his terms as prime minister.
A slow, gradual, and careful process of reconciliation was designed and successfully implemented, including a correct sequencing of events and phases. Through the accumulation of small wins, proofs of success, and tangible benefits, the process created momentum. Cooperation was re-energized, security challenges were overcome, differences contained, and positive developments routinized. With a success story apparently in the making, people became motivated to join in, and there was an increase in exchanges and joint endeavors.
Israel and Türkiye decided not to let their differences dictate their relations and to seek cooperation based on a positive bilateral and regional vision. As a positive agenda was set, a more constructive rhetoric became the custom, new narratives were put forth, and sensitivity to each side's needs was practiced. The process highlighted tangible economic steps and benefits prior to reconciliation, as well as the existence of multiple areas of potential political, security, economic, and civilian cooperation. This helped increase support for the process as it unfolded, making it seem only natural when a decision to de facto upgrade ties was reached in the summer of 2022.
It also led to the restoration of dialogue and trust. Channels of communication between officials and leaders were expanded and diversified, and high-level visits took place with much visibility and positive symbolism. The Israeli public expressed support for improved ties and the overall view in Türkiye regarding the process was positive as well.
Geopolitical trends also played a part. In parallel to their reconciliation process, the two countries were working to improve their other relationships in the region, thus creating a broader context of ending isolation, more regional dialogue, and less conflict. The United States under the Biden administration, while not actively mediating between Israel and Türkiye, encouraged them to reassess and realign their foreign policy in light of regional changes (including the Abraham Accords of 2020), reflecting US interests.
Finally, domestic politics were also a factor, especially regarding the timing of reconciliation. Preparing for a seemingly difficult election cycle in 2023, Erdoğan wanted to present concrete achievements to counter domestic criticism of his policies in the Middle East and Eastern Mediterranean. The nearing of elections in Israel, which might put Netanyahu back in power, was another factor. Sealing the deal before domestic politics came in the way, and in a manner enabling Prime Minister Yair Lapid to present another diplomatic success prior to the elections, were also important catalysts for progress.
How to Keep Moving Forward
This unique culmination of factors enabled Israel and Türkiye to do what many doubted they could—start a new chapter in their relationship and reconcile, despite difficult opening conditions and without external mediation. Both countries are doing so while being well aware of their differences on key policy issues. They are also seeking to create a mechanism that will help overcome future obstacles.
Israel and Türkiye should now formalize their reconciliation by quickly finalizing the appointments of ambassadors and consul generals. The ambassadors should prioritize interaction with the two countries' public via media interviews and in-person engagement with as many sectors of society as possible. In parallel, the two countries should relaunch their strategic dialogue (which did not officially take place during the years of crises), start convening an annual government-to-government consultation, establish friendship groups in both parliaments, devise a joint vision for the future of ties, and orchestrate parallel public events in both countries—with a strong cultural component—to celebrate the new chapter.
Ministers and senior officials from both governments should be encouraged to hold mutual visits, identify potential spheres of cooperation, and sign memoranda of understanding and agreements in order to diversify and expand the fields of cooperation and add new components to relations. Sustainable channels of communication should be established between professional echelons in a variety of ministries, in a way that can be resilient to future changes in political leadership.
The recent agreement on civic aviation, including the resumption of flights by Israeli carriers to and from Türkiye, can further increase the human connection. In that regard, the two sides should cherish the important role that civilian cooperation played in sustaining relations during the years of crisis and should work to elevate such cooperation. For example, they can establish a joint fund to support civil society organizations seeking to advance joint projects. These could include nongovernmental organizations, schools and universities, think tanks, cultural and sports institutions, and more. In addition, an academic exchange program can be established, and both countries can ask the EU to incentivize academic cooperation between themselves as part of the Horizon Europe and Erasmus+ programs.
Finally, the Israeli-Turkish reconciliation should be leveraged to advance regional cooperation and to support conflict resolution. For example, the two countries could seek trilateral cooperation with the United Arab Emirates or convene joint meetings of the existing Israeli-Turkish and Israeli-Palestinian economic committees. Together with additional countries in the Mediterranean, they could also advance a new inclusive regional mechanism to deal with climate change. Israel could support reconciliation between Egypt and Türkiye while Türkiye could seek ways to advance Israeli-Palestinian peacemaking. All of this should be done with the goal of transforming the Mediterranean into a region characterized by more cooperation and less conflict.
Sustaining their reconciliation process, injecting more diverse content into it, and finding constructive solutions to policy differences will be the next diplomatic tasks for Israel and Türkiye. But already, the process both countries have undertaken is a meaningful diplomatic success story, which will hopefully inspire others in the Mediterranean to follow their example.
This article is from "GMFUS" from September 20, 2022