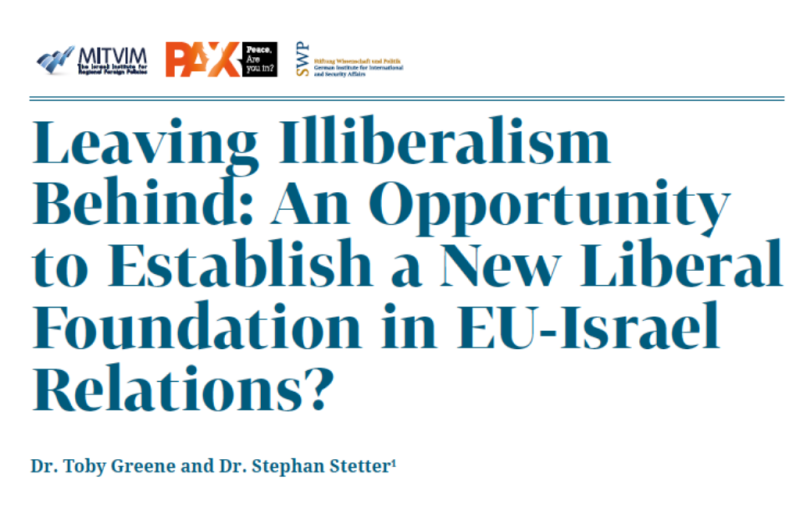 Mitvim is proud to have partnered with PAX for Peace Netherlands and SWP Germany on an extensive research project, "Democratic Backsliding and Securitization: Challenges for Israel, the EU and Israel-Europe Relations". Three short policy papers were developed as part of this project. This is the second, written by Dr. Toby Greene and Dr. Stephan Stetter, which analyzes the global surge of illiberal trends that has affected Israel and several EU member states.
The entire project will be published on July 12th, 2022. 
Dr. Toby Greene is a lecturer in the Department of Political studies at Bar Ilan University and Prof. Stephan Stetter is Professor of International Politics and Conflict Studies at the University of the Bundeswehr Munich.
Introduction
The global surge of illiberal trends, that has affected also Israel and several EU member states, has harmed the framework of shared liberal values that was an enabler of EU-Israel cooperation in the past. It caused EU-Israel relations to fall short of potential. Yet recent changes, including the displacement of Netanyahu and Trump, provide opportunities for reigniting EU-Israel relations. However, the threatened erosion of multilateral institutions based on international law and human rights and liberal democratic principles at home is neither inevitable nor irreversible. At this moment of opportunity, EU-Israel relations should be strengthened not only on the basis of shared interests. They should be more firmly based on a dialogue on how liberalism should inform domestic and international politics, informed by past experiences.