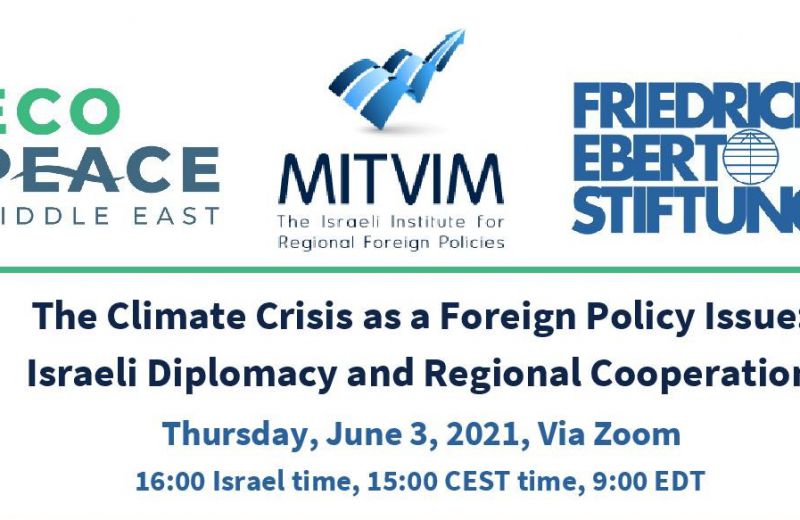 Understanding the critical importance of climate change on both local communities and international relations, especially in the Middle East, Mitivm and EcoPeace hosted a joint conference on June 3rd, 2021 to discuss current challenges, opportunities and calls for action. Opened by Dr. Paul Pasch of Friedrich Ebert Stiftung, the conference focused on the need for action in our shared region, global and local government positions on climate diplomacy, and included a presentation from EcoPeace on their "Green Blue Deal for the Middle East" to promote cooperation, conflict management and mitigation, and better diplomacy. This document includes the key points brought up by our speakers. 
Dr. Gil Murciano, CEO of the Mitvim Institute
Climate change has important implications on many regional and national security issues — from the civil war in Syria to water interests throughout the Middle East. There are three particular spaces of opportunity in the region, first the renewed commitment of the Biden Administration to climate change policy, in partnership with European actors. Second, how the long-term nature of climate change allows for the creation of a significant regional framework for international cooperation. EcoPeace has done crucial work in these efforts. Lastly, with a new Israeli government, new government officials could create new opportunities for regional cooperation specific to environmental policy.
Dr. Daniel Shapiro, Former US Ambassador to Israel
The Biden Administration is clearly making climate change a priority in both domestic and foreign policy, especially working to identify how climate change can serve other foreign policy interests. President Biden is hoping to create a policy that encourages new job growth in renewable industries in the US and to cooperate with both its allies and its global competitors, chiefly China and Russia. Crucially, addressing climate change and environmental policy provides opportunities for crisis mitigation, management and resolution. The Administration's work in these areas and Israeli environmental technology innovation and climate issues in the Middle East create a deep understanding of the potential for diplomacy and climate action to achieve shared goals.
Janet Rogan, Conference of Parties 26 UK Regional Ambassador to the Middle East and North Africa, Eastern Europe and Central Asia
International politics and conflicts are immensely impacted by shared actions relating to the environment. Climate change threatens the stability and economic growth of the global population, especially in the Middle East, the most water scarce region in the world. As a result, international diplomacy has focused on coming together to address these shared challenges, particularly mitigating global warming (through renewable technologies), adapting human activity, determining means of implementation, whether financial or otherwise, and collaborating in a coordinated way. The importance of incorporating traditionally marginalized groups, such as women and indigenous folks, in these discussions cannot be overemphasized. Without international cooperation, these issues will continue to worsen and thus worsen conflicts.
Dr. Roee Kibrik, Director of Research at the Mitvim Institute
The Israeli government has taken a slow approach to prioritizing the climate crisis within its domestic and foreign policies. This is unfortunate, firstly because today one must embrace climate change as an essential, overarching framework in order to understand the world and operate within it. Secondly, because foreign policies that directly address climate change can help fulfill Israel's most important foreign policy goals. Embracing policies that address climate change entails embracing regional cooperation, multilateralism and the pursuit of peace.  Thus, it could push Israel to cooperate with Jordan on water security, to search for energy connectivity to Europe, or to work with United Arab Emirates on food security. Furthermore, Israel is in a unique position to gain from these policies, not only from increased security and peace in the region, but because of the innovative technologies Israel has developed that will provide it with more opportunities in the international community.
Amb. Gideon Behar, Special Envoy for Climate Change and Sustainability,
Israeli Ministry of Foreign Affairs
The Israeli Ministry of Foreign Affairs maintains the fundamental belief that regional cooperation on climate change is a necessity. The risks from climate change in the Middle East are catastrophic and cannot be addressed alone, but there can be tremendous opportunities from multilateral efforts. The Abraham Accords have opened new doors for investment and cooperation, providing just one example of the regional partnerships that can be created to address climate change. The ongoing cooperation between Israel and its neighbors has always been a priority of the Israeli government, and today there is increased prioritization of environmental issues within the Ministry of Foreign Affairs (MFA). The MFA has formed a special team on climate change to work on these issues daily, and instructed all global diplomatic missions to reach the green standard in their offices, reducing their carbon footprints and raising awareness of sustainability.
Dr. Susanne Wasum-Rainer, German Ambassador to Israel
Germany is extremely committed to and highly prioritizes climate change within its foreign policy and diplomacy. The European Commission defines climate diplomacy as committing to multilateral economic policy, addressing the implications of climate change on peace and security, taking domestic action at all political levels, and enhancing international climate cooperation through outreach. Climate change requires a global response, chiefly through multilateral cooperation, such as the Paris Climate Accords. Israel is seen as a key partner in this endeavor, both due to its regional position and high level of innovation. Israel can play a huge role in the development of natural gas and energy, which can strengthen cross-border cooperation in the Middle East. The EU is seeking to invest more in environmental technologies, and Germany is committed to participating and working on these initiatives as needed.
Gidon Bromberg, Co-founder and Regional Director of EcoPeace
There are several policy opportunities for climate change and regional diplomacy in the Middle East. The Green Blue Deal for the Middle East plan addresses the positive correlation between water scarcity and the presence of conflict, as well as the heightened impact of climate change on the particularly vulnerable MENA region. If serious action is not taken at a regional level, several parts of the Middle East and Eastern Mediterranean will become uninhabitable; however, these proposals offer rich opportunities for peacebuilding and unprecedented cooperation. Jordan has an advantage for producing renewable energies, while Israel and Gaza hold the advantage for the production of water. The Israeli Ministry of Energy and Water Authority have already taken increased steps in acknowledging the need for renewable energy, including buying from neighbors such as Jordan. New initiatives include looking towards private interests, including investments from the Gulf States, to build up solar markets and water supply in Jordan and the broader region. The potential threat to Jordan's water supply could destabilize the country, which would decrease Israel's stability as well, however the availability of resources throughout Jordan, Israel, and the Palestinian Territories can allow for economic growth, regional interdependence, and peacebuilding.
Additionally, the climate crisis provides opportunities for increasing movement towards peace and the two-state solution between Israel and the Palestinians. To this end, the Green Blue Deal for the Middle East includes mechanisms for water technology sharing, from desalination to sewage treatment to increase Palestinian capacity building. Tackling water issues can provide both sides with a direct response to one of the historically intractable final status issues in the Israeli-Palestinian conflict. There is no possibility for a zero-sum game in climate change policy, which can provide an important paradigm shift in the understanding of Israeli-Palestinian peace. Furthermore, by creating new projects to clean and resupply the Jordan River, new green jobs and economic opportunities can be created in the region. Lastly, there is extreme importance in educating and empowering Israelis, Jordanians and Palestinians to work together to break the cycle of poverty and create a better environmental future for themselves and future generations.
The Green Blue Deal for the Middle East was presented at the United Nations Security Council, the UN Secretary General's Climate Summit, and will be presented at the upcoming G7 meeting, highlighting the willingness of the international community to move forward with climate action in the Middle East.